What Happens If My Spouse And I Cant Agree On Custody Of Our Children?
April 7, 2018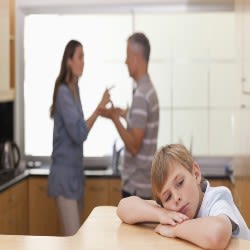 We know you want what's best for your children, and we can help you achieve an outcome in your favor. Child custody matters are serious and can prove to be complicated and confusing. On top of that, spouses often disagree on custody issues. Drawn-out custody battles can cause unnecessary emotional distress for children. Hiring an attorney like Robert Thornton, who is experienced in family law, can make all the difference in bringing about the best possible outcome for you and your children.
Types of Custody in Texas
In Texas, there are two types of custody: joint and sole custody. Joint custody means that both parents will have equal rights to the child and will share equal responsibility, even if the child or children live primarily with one parent while the other parent has visitation. Custody rights include accessing the child's records (medical, dental, psychological, educational), being able to consent to any needed treatments, and communicating with the child's school. The courts often lean heavily toward joint custody in order to preserve family relationships.
There are different types of joint custody in Texas. Joint legal custody means the child or children live primarily with one parent while the other has visitation. Both parents share the decision-making rights. Another type is shared custody. This is when the children live with each parent for at least 35% of the time. Finally, split custody is less common. This occurs when the children are separated, and each parent has full custody of at least one of the children.
Sole custody occurs when only one parent is given the rights and responsibility to the children. This only occurs when one parent is considered unfit for one of many reasons such as drug/alcohol abuse, a history of criminal activity, domestic violence issues, or being absent from the child's life. Navigating sole custody is especially challenging and is best attempted with the help of an experienced attorney.
What to Do
Obviously, there are several options available for custody. In the end, a judge will make the final decision on what is in the best interest of the children. The court will look for the best home available for the children, each parents' ability to care for them, the parents' financial abilities, and many other issues when making a ruling. This is why it's a good idea to find the right representation for your case in and out of the courtroom. It's important to get legal help especially when your spouse disagrees with your plan of action. At Thornton Law, we can help you navigate the legal process, prepare you for court, and prepare and file complicated paperwork for the court.
If you're looking for the best possible outcome for you and your children, we can help. Contact us at Thornton Law; we're here to help you understand the process and your rights.
For more information on one of the Best Family Law Attorneys in Dallas, please visit our site.